2016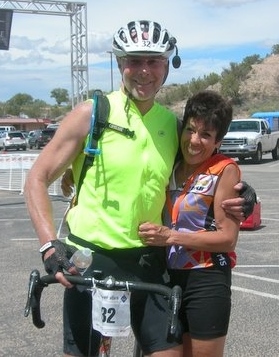 Pedal & Swing's inaugural "event" began on March 5, 2016, when we set-off from San Diego - Perry on his bicycle and Rosi driving the support vehicle. We pedaled-and-danced across the southern US, arriving in St. Augustine, FL, 3,000 miles later, on April 8, just in time for a USA Dance (Greater Daytona Chapter) fundraiser on April 9. And along the way, supporters pledged donations based on such things as the number of miles bicycled, the number of different dance partners, the number of states traversed, etc., based on their relationship(s) with those affected by MS and ALS. So after pedaling from ocean to ocean, over mountain passes, across deserts, around flooded rivers, along interstate freeways, through backwoods and bayous; and dancing in country bars, formal ballrooms, driveways, parking lots and cafés, supporters donated nearly $10,000 to the MS Society or ALS Association, facilitated by Pedal & Swing.
2017
Our great home state of New Mexico provided the backdrop for the 2017 Pedal & Swing fundraising activities; a 16.5-day, 1,650-mile bicycle journey around the entire state, beginning on March 22 in Taos, and finishing on April 8 in Albuquerque. As during the previous year, Rosi alone drove the support vehicle. But Perry was joined by other bicyclists for 6 of the 17 segments, including Rosi's son, Erik! On Day 8 of the bicycle journey, a rest day, the Ruidoso Dancers hosted TWO fundraising dances to support our Pedal & Swing mission. A fundraising dance and silent auction on April 9 in Albuquerqueprovided the exclamation mark to the 2017 Pedal & Swing activities. Similar to the previous year, between the ALS Association and MS Society, about $10,000 was raised via Pedal & Swing activities.
2018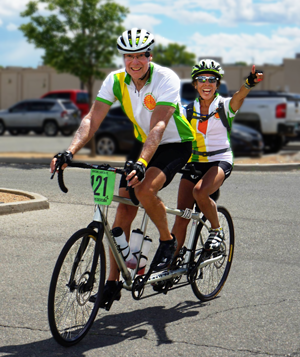 This was a crazy fundraising year for Pedal & Swing. We bought a Co-Motion
Carrera
tandem bicycle in May, and rode together, in honor of Erik, in the MS Society's Tour los Pueblos; a beautiful 100-mile loop on Saturday (August 25), from Espanola to El Rito, Ojo Caliente, Chimayo, Pojoaque, and back to Espanola. The next day we provided "recovery dances" to other bicyclists on our makeshift cardboard dance floor.
We then held a Pedal & Swing fundraiser dance on Sunday, September 30, in Albuquerque, to raise funds for the ALS Association, in honor of Eleanor and Carolyn. Then, on October 27, with Perry on the bike and Rosi driving SAG (Support And Gear) in the camper, we began our journey, starting near the NM/CO border, on the Great Divide Mountain Bike Route, to continue fundraising for
both
the MS Society and ALS Association. The fall colors in the Cruces Basin and Santa Fe National Forest were spectacular! And the 4WD road between Abiquiu and Cuba was great for mountain biking. From Cuba to Grants (about 120 miles), the Great Divide Route provides an option on paved road, so Perry switched to the road bike. Unfortunately, at about mile 80, Perry crashed, scraping some skin and breaking some bones, thus ending the ride 54 miles short of the 300-mile goal. HOWEVER! …we
did
reach our 2018 Pedal & Swing fundraising goals for both the MS Society and ALS Association!